Senior Care in Columbia SC
As a family caregiver you know how important it is for your elderly loved one to stay active and engaged throughout their later years. Maintaining an active lifestyle is important for supporting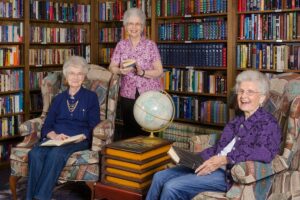 physical, mental, and emotional health and well-being, and can help them to ward off a variety of complications and issues such as depression, loneliness, isolation, loss of motivation, and illness. February is Library Lovers Month. This is the ideal opportunity for you to integrate this meaningful and valuable activity into your regular care routine with your senior.
Some of the benefits of visiting the library during Library Lovers Month and throughout the rest of the year include:
Social engagement. Social interaction is extremely important to mental and emotional health, and many elderly adults do not have as much opportunity to engage with others during their later years. No longer driving, illness, mobility limitations, and other challenges can make it so that your parent does not get out of the home as often on their own. The library is a calm, comfortable, and casual place where your parent can engage with others and enjoy conversations and time with more people.
Seminars. Most libraries have seminars, workshops, and lectures scheduled regularly throughout each month. These are open to the community and are a fantastic opportunity for your parent to get out and learn new things, as well as engage with others. Look for workshops and seminars that speak to your elderly parent's interests and go to these opportunities with them so that you can spend time together while stimulating your mind.
Books. Of course, the most obvious benefit of going to the library is borrowing books to read. Reading is a wonderful way to stimulate your loved one's mind, learn new things, and keep them entertained in a beneficial way. You can also create your own "book club" for the two of you, allowing you to read the same book and discuss it. This encourages conversation and sharing, and can give you a new perspective on how your parent thinks and feels, bonding your parent-child relationship more closely.
Starting elder care for your aging parent can be one of the most compassionate, meaningful, and nurturing decisions that you can make for them throughout the course of your caregiver journey. The highly personalized services of an elderly home care services provider are designed specifically for your elderly loved one's individual needs, challenges, and limitations, as well as their personality, preferences, and goals. This means that they will be able to stay healthy, happy, comfortable, and safe, while also maintaining the lifestyle and quality of life that they desire and deserve moving forward. When it comes to keeping them active and engaged with outings and experiences, this care provider can help your parent select activities and events that fit in with your parent's preferences, passions, and interests. They can then plan these activities, provide reliable and safe transportation, and support them as they engage in the activity in the way that is right for them.
If you or an aging loved one are considering hiring senior care in Columbia, SC, contact Heart of the Carolinas Home Care at 864-991-3116.  Providing Home Care Services in Greenville, Simpsonville, Greer, Anderson, Spartanburg, Mauldin, Seneca, Laurens, Charleston, Columbia and the surrounding areas.
Edward Harrison founded the Heart of the Carolinas Homecare in 2007 when he saw there was a need for caregivers that provide non-medical home care services, at a price that most people could afford. It was standard in the industry to require hourly minimums and it was common to be assigned a caregiver, not matched with one based on your individual personal needs. Edward understood that to make a successful relationship between caregiver and client, skills were not enough, personality and compatibility plays as much a role as do skills.
Google
Latest posts by Edward Harrison (see all)