Greer SC – Organization and Elderly Care Providers
It is important to be organized. From children to college students to parents to employees, everyone benefits when they use lists, schedules and calendars to manage their day-to-day lives. Elderly care providers are no different. In order to effectively care for their patients, proper organization is crucial. It not only aids in communication, but reduces stress and saves time and money as well. Here are some ways to keep your patients organized.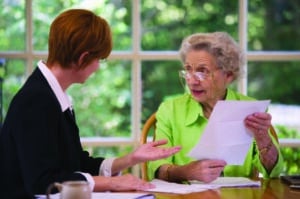 Keep a Schedule
A patient may have multiple caregivers, so having a master schedule on hand can come in handy. The schedule should include important information such as medication dosages, medical appointments, yard work, trash pickup and any other routines.
Make a List
It's easy to forget something, so having everything written down can be invaluable.  Keep a list of all important medical, legal and financial information so it is easily accessible. Contact information for family members, neighbors, church, doctors and emergency contacts should also be kept nearby.
Make Copies of Medical Information
Your patient's health information and medical history is especially important, so it's a good idea to have several copies of this data on hand (and kept in a safe place). Healthcare provider information and a list of medications (along with refill information) should always be accessible AND current.
Keep a Call Log
You will likely have to take calls from doctor's offices, the patient's family members, and perhaps other caregivers. The stress of caregiving can lead to forgotten information that can affect the patient's care. By keeping a call log, you will have a hard copy of everyone who has called, when they called and what the call was about. You will be able to easily share this information with family members and other interested parties.
File Important Papers
You may save a lot of time and money by creating a filing system. Purchase some manila folders or a small file box so you can sort and file important papers (legal, financial, medical, emergency contacts) in their appropriate places.
January is National Get Organized Month.  It's a great time to get organized!
If you or an aging loved one are considering hiring elderly care services near Greer, SC, contact Heart of the Carolinas Home Care at 864-991-3116.
Providing Home Care Services in Greenville, Simpsonville, Greer, Anderson, Spartanburg, Mauldin, Seneca, Laurens,Charleston, Columbia and the surrounding areas.
Latest posts by Edward Harrison (see all)