Caregiver in Greenville SC
If an elder family member has suddenly become ill or is unable to do everyday tasks by themselves anymore, a family caregiver may be needed to help out around the house, prepare meals, pay bills, and provide any further assistance the older adult may need. AARP reported that there are currently 44 million Americans, or one in five adults, who have taken on this role for a friend or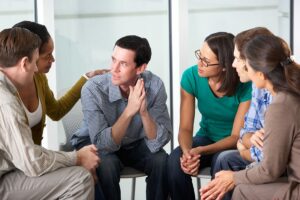 relative over the age of 50. Since many of these caregivers have careers and families of their own, the best way to provide a loved one with the care they need while also making sure their current responsibilities are not neglected is through a plan. If you have decided to assist a loved one who requires in-home care, take some time to sit down and come up with a plan that contains the following information.
Hold a meeting
Invite other family members, friends, and anyone else who may be able to help care for your loved one. Being the primary caregiver is a huge undertaking and can be stressful if done alone. Try to recruit others who are willing to help and designate specific tasks to each one, such as preparing the meals, cleaning, and providing transportation to doctor appointments. When everyone is working together, your elderly loved one will get the care they require while you get the help and support you need.
Hire help
When life gets too busy, it can be difficult to juggle around your current responsibilities in order to help your loved one. An elder care professional can take care of the home responsibilities, including chores, cooking, and laundry. Some home care aides will also be able to provide more hands-on services to assist with bathing, dressing, toileting, and any other personal care help your loved one needs. A care agency can help you find a licensed, trained professional that can provide the appropriate services.
Keep them safe
Your aging parent's vision and hearing will most likely not be the same as they were when you were a child. Because of this, the chances of them getting injured or falling in their home is much greater and could result in a broken bone or worse. Your parent will want to maintain as much independence as possible, so by making their home easier to maneuver around, they will still be able to do many things by themselves. Make sure handrails are sturdy, install grab bars and shower seats, and increase the lighting throughout the home to help provide a safer environment for your loved one.
Think about your finances
With all of the time spent helping your elderly parent, you may need to cut back on hours spent working, quit your job entirely, or pass up promotions. This could take a huge hit on your finances, especially when some of your money will now be going towards your loved one's groceries, prescriptions, and traveling expenses to go visit them. Calculate your budget, current income, and any other expenses in order to understand how your finances are looking. If possible, try to stay in the workforce as long as you can to help pay for these new expenses.
Having a plan is the best way to make sure your loved one is well taken care of. Instead of waiting for your parent to have a serious injury or medical condition that requires home care, create a plan ahead of time in order to be prepared for when, not if, the moment arises.
If you or an aging loved one are considering hiring caregiver services near Greenville, SC, contact Heart of the Carolinas Home Care at 864-991-3116.
Providing Home Care Services in Greenville, Simpsonville, Greer, Anderson, Spartanburg, Mauldin, Seneca, Laurens,Charleston, Columbia and the surrounding areas.
Source
AARP. "Prepare to Care."
Latest posts by Edward Harrison
(see all)