Elder Care in Mauldin SC
When your elderly loved one starts using a walker regularly, there are so many new things for her to learn. Some of these, like getting up from a seated position, are activities that she's been used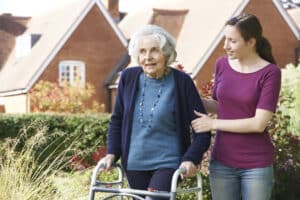 to handling one way for a long time.
Prepare for Rising
Encourage your elderly loved one to take her time preparing to stand. Make sure that she can reach her walker and that she's able to pull it in front of her in the chair when she's ready to do so. To actually prepare herself to stand, she's going to need to slide herself forward in the chair a little until her feet are flat on the floor.
Watch Your Loved One's Hand Placement
When your loved one is ready to begin standing, she should make sure to use the arms of the chair or seat to brace herself. Bracing herself on the walker itself could potentially be unsafe, especially if the walker slides forward before she's ready to do so. As your loved one comes to a standing position, she should reach out to the walker to steady herself.
Bring the Walker to Her
As your loved one becomes steadier on her feet, she should bring the walker fully to her so that she's in her normal standing position while using her walker. Your loved one should have both hands firmly on the handles of her walker at this point for the most secure positioning. If your loved one feels wobbly or uncertain on her feet at all, she should sit back down.
Give Her Time to Acclimate to Standing
Once your loved one is fully standing with both hands on her walker, make sure that you allow her plenty of time to fully get used to standing from a seated position. Depending on your loved one's health conditions, she may need a few moments to acclimate. As she feels alright to do so, your loved one can start walking with her walker to support her.
Talk to your loved one's elder care providers about what else you can do to make sure that your loved one is able to come to a standing position safely while using a walker.
If you or an aging loved one are considering hiring elder care in Mauldin, SC, contact Heart of the Carolinas Home Care at 864-991-3116.  Providing Home Care Services in Greenville, Simpsonville, Greer, Anderson, Spartanburg, Mauldin, Seneca, Laurens, Charleston, Columbia and the surrounding areas.
Edward Harrison founded the Heart of the Carolinas Homecare in 2007 when he saw there was a need for caregivers that provide non-medical home care services, at a price that most people could afford. It was standard in the industry to require hourly minimums and it was common to be assigned a caregiver, not matched with one based on your individual personal needs. Edward understood that to make a successful relationship between caregiver and client, skills were not enough, personality and compatibility plays as much a role as do skills.
Google
Latest posts by Edward Harrison (see all)