Home Care in Greenville SC
When you first made the decision to be a family caregiver for your parents it was likely largely influenced by your love for them and your desire to give them the care that they deserve so that they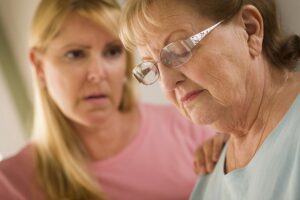 can live a high quality of life throughout their aging years. You probably thought of your fond memories of your parents from when you were younger and were looking forward to the opportunity to spend quality time with them as you did what you could to fulfill their needs and support their safety, health, and wellbeing.
What happens to your care efforts, however, when your parents do not seem like themselves anymore? Personality changes can occur for a wide range of reasons, including Alzheimer's disease or other forms of dementia, brain injuries, and stroke. In fact, the National Stroke Association estimates that around 20 percent of stroke sufferers face cognitive impairments even after recovery, and those survivors who are 65 years of age or older are at much higher risk of such complications, including memory loss, diminished attention span, confusion, and changes to their personality.
Watching as the parents who you love change and seem to become different people can be extremely difficult, and you may find yourself struggling with continuing to provide the level of care that they need and deserve as you lose the connection that you once had.
If you are facing this type of challenge in your home care journey, try these tips for dealing with these changes and continuing to be the best caregiver possible:
• Identify the changes. Ask yourself why you feel like your parents are changing. If the changes are not severe, remind yourself that all people change as they get older, and that as an adult you are likely to perceive your parents differently than you did when you were younger. This can help you to determine if your parents are really undergoing personality changes or if you are just detecting the normal differences in them that happen with aging.
• Remind yourself of your motivations. When you notice that your parents have changed and are having difficulty with your care efforts, take time to remind yourself of your motivations to start caring for them in the first place. Take a few moments to remind yourself of the love that you have for your parents and why you want them to have the highest quality of life possible. Consider hiring an in home health care services provider to take over caring for your parents for a short time so that you can get better perspective on the situation while still knowing that they are healthy and safe.
• Get to know them. Rather than trying to force your parents to go back to the people that you think that they should be, focus on getting to know them now. The personality changes that come with aging and these medical conditions are unlikely to be so marked that your parents are completely unrecognizable, but even if they are, show love and respect to your parents by taking the time to learn your parents in the context of this care relationship and their new personality traits so that you can let go of what you think they should be and learn to love and care for them as they are now and will be into the future.
If you or an aging loved one are considering hiring elderly care services near Greer, SC, contact Heart of the Carolinas Home Care at 864-991-3116.
Providing Home Care Services in Greenville, Simpsonville, Greer, Anderson, Spartanburg, Mauldin, Seneca, Laurens, Charleston, Columbia and the surrounding areas.
Latest posts by Edward Harrison
(see all)