There are many things that people of all ages can do to keep their mind sharp. For those who rely on elderly care, keeping the mind sharp can help delay memory loss associated with dementia, help stay organized, and be more focused and energized throughout the day.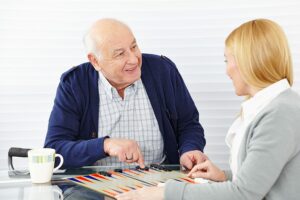 Below are five ways that elderly care providers can help seniors keep their mind sharp.
Play games.
The most obvious one is playing games. Any type of game that requires you to think and solve problems is going to be beneficial for the brain. A game like concentration and other card games that demand planning and thought are certainly beneficial.
Chess and checkers also provide benefits for the senior.
Switch sides.
If the senior is right-handed, encourage him or her to switch to the left side of the body for writing and doing other activities. This is certainly going to be challenging for anyone who isn't ambidextrous, but it will force the elderly individual to think and concentrate on every single activity, even the most mundane ones like brushing your teeth.
The elderly care provider may also benefit from this type of activity as well.
Discuss the past.
When you ask questions about someone's past, as long as you don't get too personal, it will likely inspire them to think about these events more closely. Especially activities that they used to enjoy are things that they did and hadn't thought about it a long time, is going to make them use their brain a bit more.
Discussing the past is a great way to help keep the mind sharp today.
Listen actively.
If the senior enjoys watching TV or movies, try doing so in a different way. Have the senior and yourself close your eyes and just listen more actively. Active listening is a process that takes time and concentration. You should be able to determine most of the storyline just by hearing what is going on. Encourage them to listen to sounds and not just words that are spoken.
This can also make you a better elderly care provider.
Switch things up.
Assuming the senior doesn't have any type of dementia, a routine can become mundane and doesn't require a lot of thought. If that's the case, switch things up. Take a different route to the store or encourage the patient to wear his or her watch on a different wrist. If the patient suffers from Alzheimer's or another form of dementia, the routine is important and you don't want to mess with this.
These are five ways that can be fun for both the elderly care provider and the senior that can help keep the mind sharp.
If you or an aging loved one are considering hiring elderly care services in Greenville SC, contact Heart of the Carolinas Home Care at 864-991-3116.
Providing Home Care Services in Greenville, Simpsonville, Greer, Anderson, Spartanburg, Mauldin, Seneca, Laurens,Charleston, Columbia and the surrounding areas.
Latest posts by Edward Harrison
(see all)