Senior Care in Laurens SC
Every year, millions of seniors aged 65 and over suffer injuries from falling. How can caregivers keep in-home care safe for seniors? These five safety tips can be used as an advantage any time of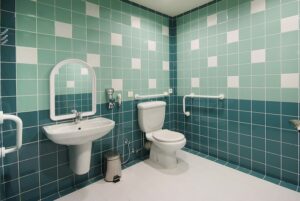 the year.
1. Inspect all rooms for clear pathways. Make sure that all stairs and floor areas are easy to navigate and free of clutter, spills, and cords. A generous supply of night-lights facilitates added visibility. If rugs are present, secure them to the floor or remove them altogether to prevent tripping accidents from occurring. Is the furniture easy to access and use for seniors? If not, make sure that it is and that all furniture is secured so nothing can topple over.
2. Modify bathrooms as needed. Many statistics show that the bathroom is the most dangerous room in the house for seniors, but with thoughtful planning and care, many such injuries can be prevented. Installing a raised toilet and grab bars on the walls increases mobility safety and comfort. A shower chair and slip resistant strips on the shower or tub floor provide additional security for bathing. Establish a phone line that can be easily reached from the shower and the toilet seat for emergency contact, and uninstall any door locks from inside the room for the same reason.
3. Reduce common kitchen hazards. If the senior cared for still enjoys cooking in the kitchen, make sure it's as safe as possible. Keep all pots, pans, utensils, spices, and other frequently used items within easy reach. Cooking appliances with firm rubber feet offer added stability on countertops. If applicable, sharp utility knives are safer to use than dull ones. Check the dates in the fridge periodically, too – it's hard enough for good eyes to see the fine print on those labels!
4. All household pets should be well trained. A calm, composed and well trained pet reduces the risk of falls and injuries for seniors. If Fido is an energetic soul, look into positive training methods that offer smart ways to release all that bunched-up energy outside the house. If able to do so, the senior being cared for might enjoy assisting with these activities. Requesting professional training help is another viable option if finances aren't an issue.
5. Ensure that the house is ready for anything. Check to see if all doors and windows can be easily opened by elderly hands for emergency access. Be sure to install smoke alarm detectors that are designed for aging ears. If handicap or mobility issues are a factor, consider investing in a monitoring system with waterproof buttons. These handy devices summon emergency personnel by the simple press of a button.
Dangers abound when it comes to senior care, but the good news is that most can be prevented. By instilling these five safety tips and a little common sense, optimum safety can be achieved in home care for seniors at any place of residence.
If you or an aging loved one are considering hiring senior care services near Laurens, SC, contact Heart of the Carolinas Home Care at 864-991-3116.
Edward Harrison founded the Heart of the Carolinas Homecare in 2007 when he saw there was a need for caregivers that provide non-medical home care services, at a price that most people could afford. It was standard in the industry to require hourly minimums and it was common to be assigned a caregiver, not matched with one based on your individual personal needs. Edward understood that to make a successful relationship between caregiver and client, skills were not enough, personality and compatibility plays as much a role as do skills.
Google
Latest posts by Edward Harrison (see all)